Food blog posts
make your own: Golden Syrup Flapjacks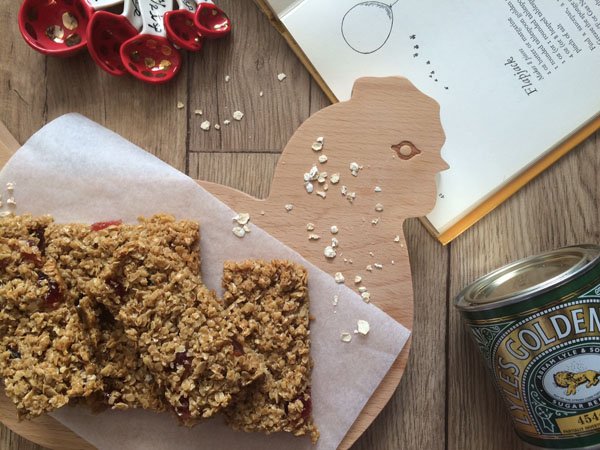 Did you catch Bake Off this week?! In honour of the start of a new series, I wanted to share my quick and easy recipe for my favourite Golden Syrup Flapjacks.
Ingredients:
140g Butter or Margarine
70g Soft Brown Sugar
280g Rolled Oats
6 tbsp Golden Syrup (add more or less depending on how gooey, or naughty(!) you like your flapjacks)
Pinch of Salt
Method:
Preheat your oven to180°C or Gas Mark 4.
Grease a baking tray with butter or line with baking parchment.
Heat the butter/margarine, syrup and sugar in a saucepan over a low heat and stir occasionally.
Once the butter has melted and the mixture is blended remove from the heat.
Add the oats and salt and mix well. You could also try adding some dried fruit, nuts or chocolate for added flavour and texture!
Spoon the mixture into the prepared tin and press evenly.
Place in the centre of the oven and cook for 20 minutes.
Remove from the oven and score with a knife to mark even sized pieces.
Allow to cool and remove from the tin.
This recipe makes about 10 flapjacks but you can easily double up the ingredients if you want to make more. You could also try dipping the cooked flapjacks in melted chocolate or coat them with yoghurt.
The perfect snack for on the go or at home with a good cup of Earl Grey!

---
make your own: Pomegranate Chocolate Bark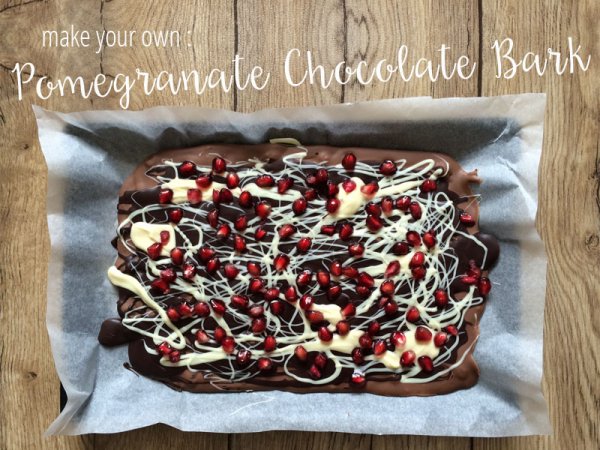 This quick and easy how-to is perfect for chocolate lovers. It makes the perfect gift and is great for sharing…or keeping all to yourself!
Ingredients:
360g Milk Chocolate
100g Dark Chocolate
50g White Chocolate
Seeds from 1-2 Pomegranates (depending on their size)
Zest of 1 Orange
1 tsp Sea Salt
Method:
Line a baking tray with greaseproof paper, or if you're feeling brave lay it straight onto your work surface.
Prepare pomegranate by deseeding, the 'wooden spoon method' should do the trick!
Melt the milk chocolate in a heatproof bowl over a pan of simmering water making sure the bottom of the bowl doesn`t touch the water. Stir occasionally.
Melt the white and dark chocolate in the same way or by using the microwave.
Once the milk chocolate has melted, take it off the heat and stir in the orange zest and half the pomegranate seeds.
Pour the chocolate into the baking tray and smooth with a spoon or a palette knife.
Spoon the melted dark chocolate over the top followed by the white chocolate and swirl. There's no need to be too careful, the messier the better!
Sprinkle with the remaining pomegranate seeds and the sea salt.
Place in the fridge for a few hours to harden.
Once its set you can break it however you please.
Enjoy!