DIY & Crafts blog posts
do-it-yourself: Christmas Wreath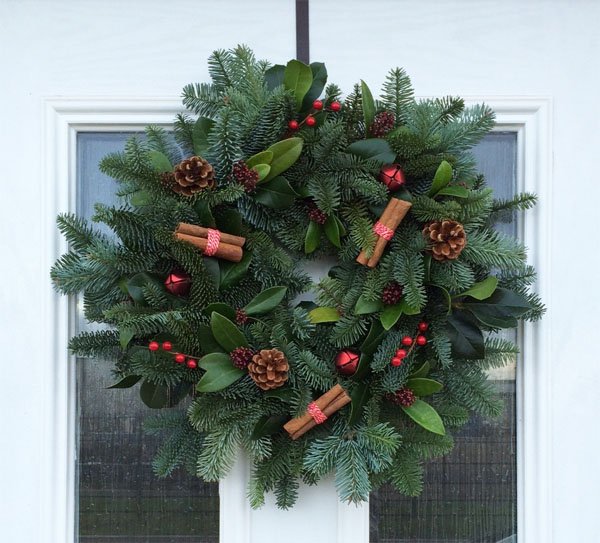 The countdown to Christmas is well under way and if you`re starting to feel a bit of festive-induced panic, fear not, for my Christmas Wreath how-to is the perfect stress reliever!
What You`ll Need:
Floral Foam Wreath Frame (any size depending on your preference, mine is 10" diameter)
2 Blue Spruce Branches
Green Foliage e.g Holly, Eucalyptus (anything from the garden or your local florist depending on the look you`re going for)
Decorations e.g Pine Cones, Fruit Slices, Cinnamon Sticks, Nuts, Bells, Ribbon
String/Twine
Floral Stub Wire
Wire Cutters, Scissors
Method:
Soak the floral foam frame by placing it in cold water in a sink or bucket. Don`t force it to submerge, just allow it absorb the liquid evenly.

Remove from the water and use the knife to thinly cut off the edges of the foam (round the inside and outside of the hoop) to create a smoother, more rounded shape.

Prepare your spruce and foliage by cutting into (roughly) even lengths. Consider the size of your wreath in comparison to the length you choose to keep things in proportion.

Insert the stems round the outside of the hoop first. As a general rule, add them in groups of three, like the points of a triangle, when you look at the wreath from above.

Interchange between your different foliage stems as you go, keeping the design as flat as possible.

Once you've done the outside, add stems to the top of the wreath to create a spiral shape going around the hoop.

Don't forget to add some smaller pieces to the inside of the hoop. Keep going until you've covered the entire frame and none of the foam is visible.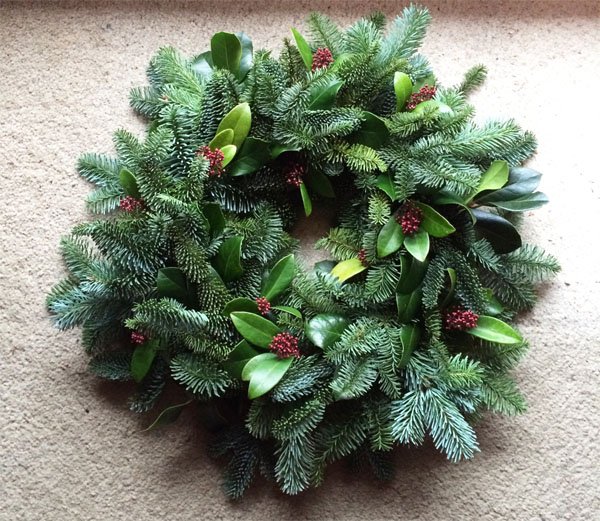 Now you`re ready to decorate your wreath!
You need to prepare your decorations by wiring them so they can be easily added to the hoop.
For pine cones, place the wire through the shelf of the cone and bend the ends down and around each other.
Take two fruit slices and insert the wire through the edge of the fruit, bend the ends down and around each other.
Tie two small cinnamon sticks together with string or raffia. Insert the wire through the string and bend the ends around each other as before.
You can use this method to wire any other decorations you want to add, like bells, bows or candy canes.
Insert the wired decorations into your wreath to complete your design!
I`ve decided to go for a more traditional look for my wreath but you could try adding flowers with your foliage or experiment with a different colour scheme for a more contemporary look. The possibilities are endless.
Get yourself a glass of mulled wine, put your feet up and get crafting!

---
do-it-yourself: Wedding Flowers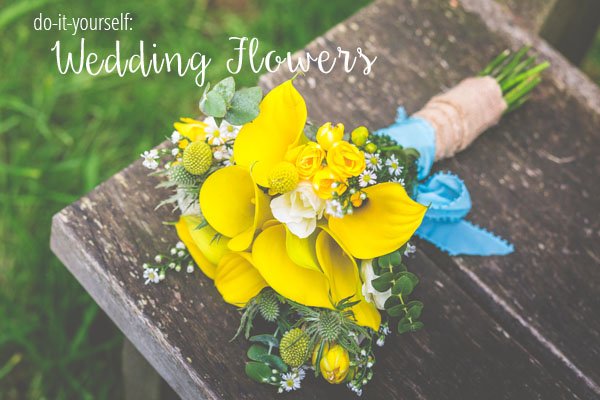 Wedding season is in full swing and whether you`re bride, bridesmaid or guest, it`s great to get involved in planning the event. Doing your own wedding flowers may sound like a daunting prospect but it`s a lovely way to make your day more personal and allows you to create the exact look you want. Have a read of my tips below and get your green fingers at the ready!
Decide On A Theme
Pick a colour and design theme, this could be inspired by your wedding venue, dress or what`s in season and will help when deciding what flowers you want and how you want to construct your bouquets and arrangements. Cue pinterest for endless ideas and inspiration.
Plan Ahead
Visit your local florist or wholesaler well in advance to have a look at what they offer and find out what`s going to be in season. They`ll be able to advise you on how to handle and look after your flowers and what will work best for you depending on your needs. You`ll also be able to pick up any other tools and materials you need, like wire and tape, at a discounted cost.
Waste Not Want Not
Once you`ve made the bride`s and bridesmaid`s bouquets, it`s nice to use what you have left to make some buttonholes and corsages for the bride and groom`s family and entourage. You could also make some additional arrangements to dot around the venue for a complimentary and cohesive overall look.
Improvise
Don`t feel like you have to make your own table decorations too, potted plants can look just as good as centrepieces and make great gifts for your guests to take home. Alternatively you can plant them at home for a reminder of your special day in the weeks to come. Try your local supermarket or garden centre for seasonal, on budget options.
Get Crafty
If you`re going for a rustic theme, old jars, glass bottles or plant pots make great centrepieces for the table and can be easily integrated into your colour theme with vintage lace and ribbon from your local haberdashery. Use contrasting trims for your bouquets to tie everything together.
Have Fun
Most importantly, don`t get overwhelmed by doing your own wedding flowers. Invite your family and friends over the day before the wedding so that everyone can get involved and lend a helping hand. It`s a perfect opportunity to enjoy a few cocktails and get in the mood for the big day.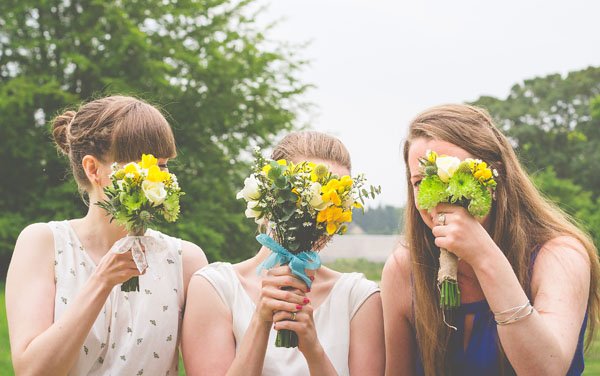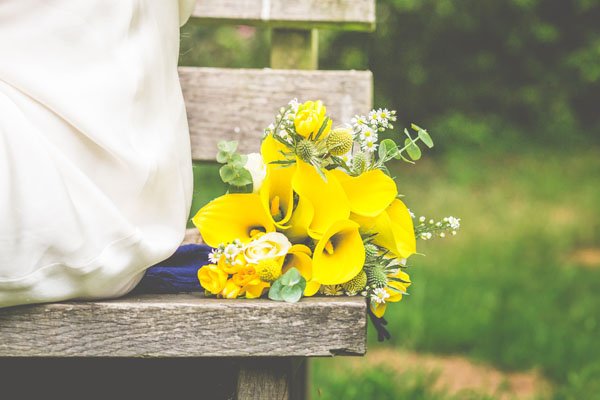 Last month my sister celebrated her wedding at Westonbirt Arboretum in Gloucestershire. We used the picturesque woodland setting and a sunny yellow and blue colour palette as inspiration to choose her flowers. Bold, yellow calla lilies made up the bride`s posy along with green thistles, white roses, yellow freesia, pom pom caspedia, september flower and eucalyptus. The bridesmaid`s bouquets featured green chrysanthemum and further freesia, roses and september flower to compliment the bride`s. We used natural burlap, ribbon and lace to finish the bouquets and to give them a rustic vintage feel.
Hope you`re enjoying the summer and if you`re planning a wedding this year or next, don`t be afraid to do-it-yourself and get your hands dirty!